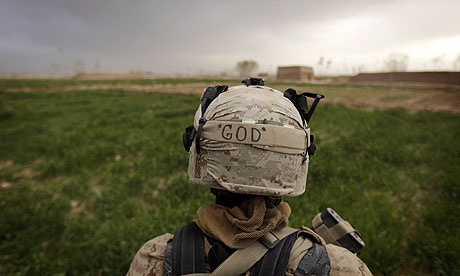 via The Guardian:

Friday 1 February 2013 12.00 EST
Simon Rogers
US military suicides in charts:
how they overtook combat deaths
US military suicides are increasing as deaths in action are going down.
Find out what we know about the trend•
Download the data
•
More data journalism and data visualisations from the Guardian
Beginning of original post from 8-23-2011:
Antidepressants, neuroleptics and other psychiatric drugs can kill the person who takes them, or compel the person to commit acts of violent aggression including homicide. Why are these events, and the psychiatric drugs which contribute to and/or cause them, not being reported more accurately in the news in the United States? Does the income derived from direct-to-consumer advertising of drugs serve another purpose? Is the mainstream news media not reporting the news due to a Conflict of Interest? Is deriving so much revenue from the pharmaceutical industry preventing journalists from accurately reporting stories which are unfavorable or critical of a source of income for their corporate employers? The United States and New Zealand are the only countries in the world where it is legal to market prescription drugs direct to consumers through print, electronic, radio and television advertisements.
Who does all of this benefit most?
VIA:

Are US Soldiers Suicides Caused by Prescription Drugs?
by Martha Rosenberg,
"The suicide rate among US troops is astonishing.

"In 2009 there were 160 active duty suicides, 239 suicides within the total Army including the Reserves, 146 active duty deaths from drug overdoses and high risk behavior and 1,713 suicide attempts, says the Army's suicide report, released in July.

"Not only are more troops dying from their own hand than combat says the Army report, titled Health Promotion, Risk Reduction, Suicide Prevention, 36 percent of the suicides were troops who were never deployed.
"Also astonishing is the psychoactive drug rate among active duty-aged troops, 18 to 34, which is up 85 percent since 2003 according to the military health plan, Tricare. Since 2001, 73,103 prescriptions for Zoloft have been dispensed, 38,199 for Prozac, 17,830 for Paxil and 12,047 for Cymbalta says Tricare 2009 data, which includes family prescriptions. All of the drugs carry a suicide warning label.

"In addition to the leap in SSRI antidepressants, prescriptions for the anticonvulsants Topamax and Neurontin rose 56 percent in the same group since 2005 says Navy Times, drugs which the FDA warned last year double suicidal thinking in patients.... "
"Over 4,000 published reports of violent and bizarre behavior of people affected by antidepressants on the web archive ssristories.com reveal the same out of character violence and self harm in civilians, currently seen in the military.

"Twenty people set themselves on fire. Ten bit their victims (including a biter who was sleepwalking and a woman, on Prozac, who bit her 87-year-old mother into critical condition.) Three men in the 70s and 80s attack their wives with hammers. Many stab their victims obsessively -- one even stabs furniture after killing his wife -- and 14 parents drown their children, a crime seldom heard of before the 2001 Andrea Yates case. Yates drowned her five children on the antidepressant Effexor which manufacturer Wyeth (now Pfizer) "issued no public warning" about says the Associated Press.

"Then there's the North Carolina pilot on Zoloft who sings, "I'm going down for the last time," into the cockpit voice recorder before he crashes his plane in June. And the Mayor of Coppell, Texas, Jayne Peters who kills herself and her daughter in July over the grief of losing her husband. Police find antidepressants at the home.

"Such murder-suicides committed by women used to be rare says Betty Henderson the web site's moderator and researcher. "Before the SSRI antidepressants, women committed five percent of the murder-suicides and now they account for almost 15 percent of this type of violence," she said in an interview.

"Antidepressants are also causing women to become neo sexual predators says Henderson. "There have been more than a dozen recent cases of women school teachers molesting their young students under the influence or withdrawal of antidepressants. Who heard of this type of sexual aberration before the antidepressant craze?"
"In fact, the high percentage of civilian suicides on psychoactive drugs is probably the clearest indication that military life is not the only cause of the shocking troop suicides: In September alone, there were 18 civilian suicides, 11 murders, 2 murder suicides and other violence linked to people who were using or had used antidepressants, according to

published reports

.
"Also in the thirty day period, a 60-year-old grandmother in Seattle killed three family members and herself; a disc jockey in Bristol, UK set himself on fire; and a man in Exeter, UK man was determined to have stabbed himself in the heart. All were on antidepress-ants. Finally, in the month of September, legal proceedings began against two mothers and a father charged with killing their own children.

read here.
Suicide brings a decade of war home
12:30 AEST Tue Aug 23 2011
A soldier kills himself and his wife. Another war veteran hangs himself in despair. Yet a third puts a gun to his head and pulls the trigger outside a gas station in a confrontation with Texas lawmen.
Suicides by veterans like these once would have left people reeling in this military community. But troops and their families here these days call it the "new normal" for a US Army that's spent a decade at war.
Melissa Dixon sees the stress in the tattoos she draws on soldiers back from combat.
"Some of them have issues with their wives or their loved ones, where they're fighting, or one will have a friend commit suicide," she said.
There's no place like Fort Hood in the Army. A post that sent soldiers from two divisions to Iraq three times since the invasion, it's logged more suicides since 2003 than any other — 107.
Soldiers at big posts like Fort Hood that have played key roles in deployments are at the greatest risk of killing themselves.
The post here in Killeen, northwest of Texas' state capital, Austin, set an Army record last year with 22 suicides.
Elsewhere, Fort Bragg, North Carolina, home of the 82nd Airborne Division, has lost 77 soldiers to suicide since 2003.
At Fort Campbell, Kentucky, home to the 101st Airborne Division, 75 soldiers have died by their own hand over the last eight years.
But the problem is widespread. Last year, a record 300 soldiers in the active-duty, Reserve and National Guard killed themselves.
The numbers appear to be down slightly in 2011, but 32 active-duty staff killed themselves in July, the highest since the Army began tracking the phenomenon in January 2009.

read the rest here.
SSRI Stories Note: The Physicians Desk Reference states that antidepressants can cause a craving for alcohol and can cause alcohol abuse. Also, the liver cannot metabolize the antidepressant and the alcohol simultaneously, thus leading to higher levels of both alcohol and the antidepressant
in the human body.
We came across something very disturbing in today's Metro. In an article titled
"A Soldier's Suicide: Did He Have to Die?"
we read about the story of soldier
Jason Scheuerman.
Jason took his own life in Iraq after numerous displays of suicidal characteristics and behaviors. What was more horrifying was this statistic, imbedded halfway down in the article:
"At least 152 U.S. troops have taken their own lives in Iraq and Afghanistan since the two wars started, contributing to the Army's highest suicide rate in 26 years of keeping track."
This is so, so sad. Not only are we loosing thousands of troops to the enemy (whoever that may be at the time), we are loosing hundreds of sons and daughters to despair. And it doesn't end when they return home. America is suffering an epidemic of suicides among traumatized army veterans.
"More American military veterans have been committing suicide than US soldiers have been dying in Iraq. At least 6,256 US veterans took their lives in 2005, at an average of 17 a day." [TimesOnline]
As a nation, we need to step things up. Jason is an example of several military leaders failing to take action. On a mental health questionnaire he had admitted thoughts about killing himself, also that he was uptight, anxious, depressed, and had feelings of hopelessness and despair. He had also made calls home saying goodbye, and spoke several times about wanting to kill himself. His leaders many of the times played these claims of his off as exaggerated jokes by the soldier, and even gave him back his gun after serving him with 14 days of extra duty as punishment (minutes later they found him dead in his room). Imagine the angst of his parents, who were soldiers themselves, and feel this should have been prevented. His dad Chris: