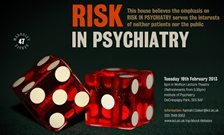 Mental health professionals frequently make predictions about the risks of harm posed by patients to themselves and others, and attempt to reduce these, often by enforcing treatment and admission to hospital.
The concept of risk has gained increasing prominence from high profile failures of care, with publicity in the media further highlighting harms caused by those with mental illness. More broadly, in all areas of medicine and indeed society, individuals and institutions are increasingly being held accountable for adverse outcomes, further driving the risk agenda.
Reducing harm is an intuitive and desirable goal. Is a focus on risk an effective way of reducing harm? Are we able to predict risks with any degree of accuracy? And do our attempts to reduce risk cause harm in themselves, and distract from other aspects of care?
The Risk Debate brings together a distinguished panel of experts together with audience participation to generate a stimulating discussion on an important and but neglected topic, which is not to be missed.
Speakers For:
Dr Matthew Large, University of New South Wales, Sydney
Professor George Szmukler, Institute of Psychiatry
Speakers Against:
Professor John Morgan, Royal College of Psychiatrists
Professor Tom Fahy, Institute of Psychiatry
Chair:
Dr Gwen Adshead, Broadmoor Hospital
Listen

here