Disclosure: The author of this post receives no money from the drug industry. My interest in Clozapine comes from the fact my son has been on this neuroleptic drug for over a decade. Clozapine was first prescribed to him when he was a barely a teenager; more than a decade later, Clozapine is still not approved for kids the age my son was when he was first prescribed Clozapine.
I think that the financial disclosures, and any relationships which could be a potential Conflict of Interest, should be at the top of reports and journal articles written by academics; and be the first thing disclosed in presentations given, and in presenting Continuing Education programs even if, (maybe especially when!)
the audience is other professionals...
The New Clinical Drug Evaluation Unit (NCDEU) 51st Annual Meeting was an
event held in Boca Raton, Florida in the middle of June of 2011 a report written by Fran Lowry was posted online at Medscape Medical News.
One doctor, Susan M. Essock, lamented in a "poster session" the neuro
leptic drug Clozapine, is "underprescribed" in her sales pitch. For all intents and purposes, the purpose of a "poster session" is to sell an idea and/or product; Essock was selling the idea that more people with a diagnosis of schizophrenia should be prescribed Clozapine.
She is supported in her sales pitch by John Kane, president of the
American Society of Clinical Psychopharmacology.
"Dr. Essock has disclosed no relevant financial relationships. Dr. Kane reported that he has financial relationships with Astra Zeneca, Boehringer Ingelheim, Bristol-Myers Squibb, Cephalon, Dainippon Sumitomo, Eli Lilly, Esai Inc., H. Lundbeck A/S, Intracellular Therapeutics, Janssen Pharmaceuticals, MedAvante, Merck, Novartis, Otsuka, Pfizer, and Rules Based Medicine
."
Can anyone see a Conflict of Interest?
"June 16, 2011 (Boca Raton, Florida) — Clozapine, an effective antipsychotic medication for treatment-resistant schizophrenia, is not being prescribed as often as it should be, researchers reported here at the New Clinical Drug Evaluation Unit (NCDEU) 51st Annual Meeting, sponsored by the American Society of Clinical Psychopharmacology.
"Study after study shows clozapine, which is the first of the second-generation antipsychotics, to be the most effective antipsychotic out there, but it's hardly being used," Susan M. Essock, PhD, from the New York State Psychiatric Institute and Columbia University, New York, New York, told Medscape Medical News at a poster session.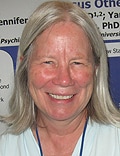 Dr. Susan M. Essock
Up to 30% of people with schizophrenia are potential candidates for clozapine because they have refractory psychotic symptoms that do not respond well to first-line antipsychotics.
Yet only 2% to 3% of people with schizophrenia in the United States, and fewer than 6% in New York State, take the drug, Dr. Essock said.
She and her colleagues used New York State Medicaid data to identify factors associated with the initiation of clozapine compared with other antipsychotic medications.
Their study sample included 7035 Medicaid recipients who had a primary diagnosis of schizophrenia or schizoaffective disorder and who filled a prescription for an antipsychotic medication in 2009 without a fill of that same medication in the prior 90 days."
"Patients started on clozapine also had higher Medicaid costs (mean, $58,861 ± $65,367) than those not receiving clozapine ($16,687 ± $27,767)."
"These are important data in highlighting the underutilization of clozapine. Many more patients could potentially benefit from a trial of the medication that has the best chance of succeeding when others fail. We need to work towards reducing the existing obstacles to wider use of clozapine." read here.
Of course, since this "poster session" at this "professional conference" only mentioned one, "existing obstacle," the cost, which is double the cost of treatment(compared to other "atypical" neuroleptics) per patient. What was not discussed at this "poster session" were the other "existing obstacles;" e.g. the serious negative effects of the drug on patients. There are a significant number of serious adverse events in the AERS data base listing permanent disabilities and sudden death resulting from Clozapine. Of course, there was also no mention of the need for adjunct neuroleptic drugs, a practice known as "polypharmacy;" due to Clozapine BEING INEFFICACIOUS. Polypharmacy increases costs for medical care and increases the risks for iatrogenic illnesses, disabilities and sudden death.
September 10, 2007 article in the Archives of Internal Medicine:
Serious Adverse Drug Events Reported to the Food and Drug Administration, 1998-2005
Thomas J. Moore, AB; Michael R. Cohen, RPh, MS, ScD; Curt D. Furberg, MD, PhD
Arch Intern Med. 2007;167(16):1752-1759.
via The Injury Lawyer Directory:
"T

here were 467,809 of these events that had been reported to the FDA.

Clozapine was found to have triggered 3,277 deaths, making it the third most dangerous drug being used in the U.S. It was also connected with over 4,300 adverse drug events that led to disability or required serious medical intervention."

here
Perhaps Dr.s Essock and Kane are unaware of the Clozapine augmentation drug trials; one of which I wrote about September 7, 2011

here.
The Drug Trial results the aforementioned post refers to were published online February 2011, and in the Professional Journal, Neuropsychopharmacology, in May of 2011. Of course, trying to sell an the idea that an expensive drug is an "effective" neuroleptic wouldn't be as successful if the pitch included unbiased data which is not supportive of the claims being made to sell it. Between 1/3 and 2/3 of those people to whom Clozapine is prescribed, are not in fact "effectively treated," and are prescribed other neuroleptic drugs off-label to "augment" the "efficacious" drug that according to Dr. Essock,
"Study after study shows...to be the most effective antipsychotic out there
."
via nature.com Neuropsychopharmacholgy:
Pimozide Augmentation of Clozapine Inpatients with Schizophrenia and Schizoaffective Disorder Unresponsive to Clozapine Monotherapy
an excerpt:
Despite its superior efficacy, clozapine is helpful in only a subset of patients with schizophrenia unresponsive to other antipsychotics. This lack of complete success has prompted the frequent use of various clozapine combination strategies despite a paucity of evidence from randomized controlled trials supporting their efficacy.

here
via PubMed.gov:
Aripiprazole...

J Clin Psychiatry.

2008 May;69(5):720-31.

Conclusion: "

Although aripiprazole augmentation of clozapine did not lead to a significant improvement of total symptom severity in schizophrenia, a favorable change in the negative symptom domain was observed."
via The Cochrane Library:
Clozapine combined with different antipsychotic drugs for treatment resistant schizophrenia
Authors' conclusions
"In this review we considered the risk of bias too high because of the poor quality of the retrieved information (small sample size, heterogeneity of comparisons, flaws in the design, conduct and analysis). Although clinical guidelines recommend a second antipsychotic in addition to clozapine in partially responsive patients with schizophrenia, the present systematic review was not able to show if any particular combination strategy was superior to the others. New, properly conducted, randomised controlled trials independent from the pharmaceutical industry need to recruit many more patients to give a reliable estimate of effect or of no effect of antipsychotics as combination treatment with clozapine in patients who do not have an optimal response to clozapine monotherapy."
here
Neuro 'Psycho' Pharmacology