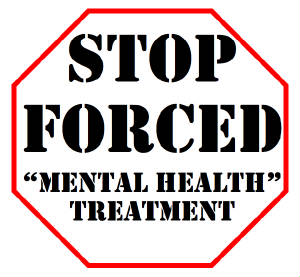 "When ever a separation is made between liberty and justice, neither is safe."
Edmund Burke
via
lauren10e
Published on Aug 24, 2012 by
lauren10e
Lauren Tenney testifies at Olmstead hearing 8.22.2012 and makes calls that state-sponsored murder, slavery, and torture must end.
For more information:
www.facebook.com/TenneyLauren
www.TheOpalProject.org
www.StopForceNow.org
www.NoIOC.org
Supreme Court Upholds ADA 'Integration Mandate' in Olmstead decision
Washington, DC, June 22, 1999 -- In rejecting the state of Georgia's appeal to enforce institutionalization of individuals with disabilities, the Supreme Court today affirmed the right of individuals with disabilities to live in their community in its 6-3 ruling against the state of Georgia in the case

Olmstead v. L.C and E.W

.
Under Title II of the federal Americans with Disabilities Act, said Justice Ruth Bader Ginsburg, delivering the opinion of the court, "states are required to place persons with mental disabilities in community settings rather than in institutions when the StateÕs treatment professionals have determined that community placement is appropriate, the transfer from institutional care to a less restrictive setting is not opposed by the affected individual, and the placement can be reasonably accommodated, taking into account the resources available to the State and the needs of others with mental disabilities. "
The 'integration mandate' of the Americans with Disabilities Act requires public agencies to provide services "in the most integrated setting appropriate to the needs of qualified individuals with disabilities." The high court upheld that mandate, ruling that Georgia's department of human resources could not segregate two women with mental disabilities in a state psychiatric hospital long after the agency's own treatment professionals had recommended their transfer to community care.
The lower courts ruled the state violated the ADA's "integration mandate" and Georgia appealed, claiming the ruling could lead to the closing of all state hospitals and disruption of state funding of services to people with mental disabilities.
However, the women were supported by a number of states, disability organizations and others, including the U.S. solicitor general, who said "The unjustified segregation of people in institutions, when community placement is appropriate, constitutes a form of discrimination prohibited by Title II [of the ADA]."
Originally, 26 states had signed onto an Amicus Brief in support of Georgia's position. However, an extensive education campaign by the disability rights movement reduced that number to just seven. read more

here
Isaac August 2011
INVOLUNTARY COMMITMENT
AND FORCED PSYCHIATRIC
DRUGGING IN THE TRIAL
COURTS: RIGHTS VIOLATIONS
AS A MATTER OF COURSE
JAMES B. (JIM) GOTTSTEIN*