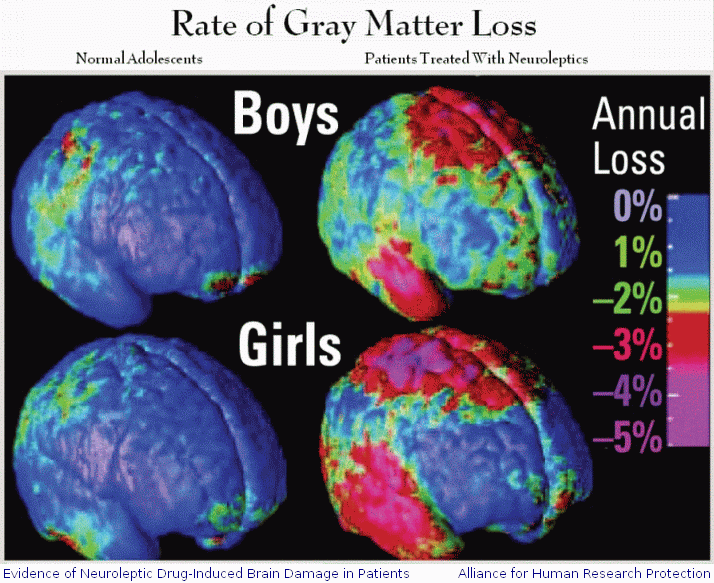 Average rate of gray matter loss: evidence of neuroleptic drug-induced brain damage.
The more drugs you've been given, the more brain tissue you lose. What exactly do these drugs do? They block basal ganglia activity. The prefrontal cortex doesn't get the input it needs and is being shut down by drugs. That reduces the psychotic symptoms. It also causes the prefrontal cortex to slowly atrophy.
Both the older and the atypical neuroleptics shrink brain tissue during routine clinical exposure.
ARTICLES
|
March 01, 2013
Antipsychotic Use by Medicaid-Insured Youths: Impact of Eligibility and Psychiatric Diagnosis Across a Decade
Psychiatric Services 2013;
doi: 10.1176/appi.ps.201200081
Author and Article Information
Copyright © American Psychiatric Association
"The expansion of antipsychotic medication use from 1997 to 2006 among Medicaid-insured youths was most prominent among those qualifying with low (SCHIP) and very low (TANF) family incomes. This was the case even though the most impaired youths—those in foster care or those receiving SSI—had distinctly
higher levels of antipsychotic drug use within each study year. Factors contributing to this antipsychotic use pattern included the expanding SCHIP and TANF populations, the increased use of antipsychotics among
youths enrolled in SCHIP and TANF, and the increased use of antipsychotic medication for behavior disorders over the decade. Likewise, although youths with diagnoses of schizophrenia and other psychotic disorders and pervasive developmental disorders had the highest rates of antipsychotic medication use, youths with externalizing behavior disorders far outnumbered those with these less common conditions and constituted the largest group of utilizers of antipsychotic medications."
"Methods: The authors analyzed computerized administrative claims data for 456,315 youths aged two to
17 years who were continuously enrolled in Medicaid in a mid-Atlantic state in 1997 (N=159,171) and 2006 (N=297,144)."
In 1997 a total of 615 kids with no diagnosis were prescribed neuroleptic drugs in this sample. More than twice as many kids, a total of 1,481 were prescribed a neuroletic drug in 2006, despite the fact they had no psychiatric diagnosis which would indicate a need for such a prescription!
What the above represents is only a small percentage of the number of fraudulent claims which were submitted to Medicaid for payment, i.e. fraud. Obviously, the civil and criminal penalties paid by the pharmaceutical industry for illegally marketing these drugs is not going to stop the fraud. The unethical medical practitioners are defending their "professional privilege" to use these drugs absent evidence the drugs "treat" the conditions the drugs are prescribed off label for. It is the prescribers whose unethical prescribing of these teratogenic drugs to children are guided by the APA and AACAP practice parameters and treatment algorithms who must be stopped. Standard practices originally protected patients, now they serve to protect the unethical behavior of the professionals who use them as an affirmative defense for what is not only medical malpractice, but Human Experimentation; the current standard in mental health care for kids on Medicaid.
hat tip: Allen Frances, M.D.
@allenfrancesmd It doesn't explain the lack of #medicalethics it takes to Rx drugs that cause a myriad of neurological cognitive impairments
— Becky (@yobluemama2) March 8, 2013
@narcotic_repose Pharma fined heavily for illegal off-label marketing,but continues because antipsychotic sales an outrageous $18 bil/yr
— Allen Frances (@AllenFrancesMD) March 8, 2013
@allenfrancesmd @narcotic_repose Pharma wouldn't be successful w/o unethical doctors Rxing neuroleptics for behaviors others find annoying!
— Becky (@yobluemama2) March 8, 2013
FAIR USE NOTICE: This may contain copyrighted
(C) material the use of which has not always been specifically authorized by the copyright owner. Such material is made available for educational purposes, to advance understanding of human rights, democracy, scientific, moral, ethical, and social justice issues, etc. It is believed that this constitutes a 'fair use' of any such copyrighted material as provided for in Title 17 U.S.C. section 107 of the US Copyright Law. This material is distributed without profit.