This is from the abstract of Yakima County's Proposal to get the 9 million dollar grant to change the mental health service system for children at risk of out of home placement or hospitalization due to SED.
ABSTRACT
The Yakima Valley Youth and Family Coalition will implement a single, integrated system of care to provide comprehensive, community-based mental health services and supports for all Yakima County youth, including the Yakama Nation, with SED and their families. Planning and implementation will be anchored with the Partnerships for Success (PfS) Community Planning Process and wraparound care coordination in accord with National Wraparound Initiative standards. We will initially prioritize service to youth age 10-21 with SED and involvement in juvenile justice or child welfare systems, youth experiencing co-occurring challenges related to substance use and youth in transition, with specific focus on Native American and Hispanic youth. We anticipate expanding to preschool and school-age children in Years 5 and 6.
This grant was given to the county to change the mental health system. The effort is to be driven by the community, not the County staff or Central Washington Comprehensive Mental Health staff. We are two years into this effort and the general community has little to no idea. Thus far, there has been virtually nothing in the local paper. In two years since receiving the grant, there have been two pieces in the local paper, The Yakima Herald Republic. Twice in two years, why is it so under wraps? One of the times it was in the Unleashed section, written by local high school kids. The kid who wrote the piece is the child of a Central Washington Comprehensive Mental Health administrator.
The project Yakima Valley Systems of Care has a Facebook page the following is the last several months of community events listed there:
There is no problem with having outreach events targeting gay youth. However, I for one, question why this is the only type of community event that has taken place for months. Gay youth are a portion of two other target groups this grant is primarily to serve, Hispanic and Native American youth. In reality, they are only a segment of two larger groups of the youth and families Systems of Care outreach activities are theoretically needing to reach; but the only group that Yakima County has had events for.
This grant is an opportunity for SED youth and their families, to transform for the better the services which will enable recovery from their difficulties. It is obvious to me these people are still not effectively sought for their input on implementation of this grant.
It is also obvious to me that the print and television journalists have no interest in reporting violations of the public trust or mismanagement of mental health transformation funds.
The following link to the last article run relating to this grant in the Yakima Herald and the comments on the Yakima Herald in response to the story make it plain that there is a public interest story, and possibly one of fraud and corruption as well.
Yakima Herald Event targets stigmas on sexual orientation, mental illness
(update 3-5-2012) someone visited this page repeatedly yesterday which alerted me to the link to the Yakima Herald being broken; luckily the article and comments are available in the archive.
via KNDU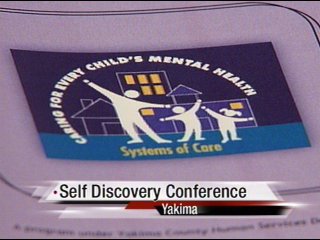 YAKIMA, Wash. -- Yakima Valley System of Care and its partners will hold the first annual Journey of Self Discovery Conference on Saturday.
The conference will be an opportunity for adults and youth to learn more about the gay, lesbian, bi-sexual and transgender culture.
"Through Saturday's event, we're hoping to offer information and have a community resource available for individuals who are seeking additional information. Whether it be for personal reasons related to their own sexual identity. Or in support of those that they know, so that they can be a better support and ally in our community," said Gretchen Waschke, Project Director for Yakima Valley System of Care.
Several community members will be on hand to answer questions and provide information at the conference, including representatives from the local chapter of Parents, Families, and Friends of Lesbians and Gays (PFLAG), and the National Alliance on Mental Illness (NAMI).
"Yakima County, as a community, is starting to recognize and realize that we need to have more resources available for all cultures, and all individuals in our community to promote health and wellness," said Waschke.
The Journey of Self Discovery Conference will be held at the Rainbow Cathedral MCC, 225 N. 2nd Street in Yakima. The free event is from 9 a.m. until 3 p.m. Lunch will be provided. There will also be a dessert social and entertainment from 3 p.m. - 4 p.m. at the church.